Permian

High School




Class Of 1980
Welcome
Permian High School
Class Of 1980
"41st" CLASS REUNION was a HUGE SUCCESS!
THANK YOU TO ALL OF OUR SPONSORS!
Tino Akins, Brick & Sandra (Alexander) Roberts, Kevin Andrews,
Lisa Black Brooks, Sandy Bushong Nease, Jim Cunningham, Rick Fincher,
Suzanne Fletcher D'Amico, Mike Fowler, Rene Graves Owens, Rod Griffin,
Sheila Hisaw Clark, Sondra Holguin Eoff, Melanie Laughery Lindsey,
Cindy Letcher Garner, Lori Lewis Dawson, Reynaldo Martinez, Julie Melton,
Lisa Ross Beggs, Greg & Danna (Sides) Thornton, Stephanie Sivalls Latimer,
Blaine Smith & Tonya Treat Houser
Thank you all for sponsoring the reunion and helping to keep our registration fees as low as possible.
A huge thank you to Sondra (Holguin) & Toby Eoff for their help with arrangements at the hotel. Also, for bringing the Pictures Band to our reunion. Everyone enjoyed them immensely!
I'd like to thank Danna Sides Thornton for her never ending efforts (it was a long time in planning) to connect with and inform all of our Permian Class of 1980 Band Members about the reunion and to most of all encourage them to attend! I wish I would have had all of the members of the band stand up at the reunion. We had a good group there.
Kathy and I would like to thank each one of you that attended the reunion. You make our efforts worthwhile and seeing everyone having a good time and reconnecting is what it is all about. We were sad that so many still could not make it to the reunion, but our hope is that you will make the next one!
Thank you for the nice cards and the generous gift that you gave us that evening!
My apologies for the delay in thank you's and updating the page! Like I said before, it was a long time in planning and it took a toll on me! Once the reunion was over, I had to hit the ground running for football season and the athletics office at Permian. Then with the holidays, trips, my niece's wedding and everything in between I finally had some time to get caught up here.
We had a lot of people asking that night if we would have a 45 year reunion, I had to just get through this one first! Our 50th will be a BIG DEAL, so I think we will wait for that one as far as a huge event. For our 45, we will try and put something together so we can all see each other, but not a paid event.
If you haven't uploaded photos from the reunion, please do so in our gallery.
We loved seeing each and every one of you and hope you had a great time!
Looking forward to the 50th in 2030!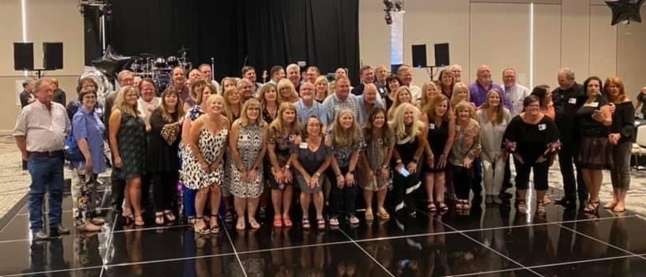 It's easy to create your profile:
1. Click on Classmates Profiles at the top left.

2. Find yourself on the list and click on your name.

3. Click on the link in the middle that says, "If you are xxxxx, please click here now to create your profile! " to get going on your profile and account setup on this site. Please supply your address and phone number so that we may contact you.
4. The website sets the notifications automatically, so please go into the tab notify me after you create your profile and set your email preferences.
Post some pictures too!
Recommendation: make sure the box marked Profile Visibility is checked so that only other registered PHS Classmates can see your information. See announcement below for more information.




CLICK ON PHOTO GALLERY TO UPLOAD YOUR PHOTOS
This website is managed by your classmates at no cost to you....you can stop paying for the use of other sites! We will maintain this site and keep it as up to date as possible but be patient with us....as it will always be a work in progress.
We will never give out your information but to keep others from viewing your profile please follow the steps outlined below to insure your privacy concerning your account and profile. Only registered classmates can see your profile information if you check the privacy box.
We will have up-to-date Reunion information, lots of memories (did you notice the picture of Permian? the circle drive is now gone!) and an easy way to keep up with classmates. This is our permanent 1980 Class website so come back often to find out what plans have been made, who we've located and what everyone has been up to! Come on ya'll don't be shy - let's see some of your shining faces....post some photos! The senior photos have been added. I will continue to look for pictures of the classmates that did not have a senior photo.
Check out the photos from the previous reunions and the new message forum!
You will from time to time receive an email from this site but we will try and keep it to a minimum. We wanted a site that would be a private place for our classmates to reconnect and find out reunion information . We also have a message board for communication. Once you've registered, you and your classmates can contact each other directly using this site.

All classmates are considered missing until they have created an account on this site. Your name will automatically be removed from the missing list after you have registered. If you know how to contact one of our missing classmates, please encourage them to sign up here. Also, if you don't see someone's name on the list please let us know.

Don't forget you can also post photos to your profile.
Click the "Contact Us" button if you have any questions or problems.

Although we are not charging anyone to use this site, we will accept donations. Any donations received will only be used for our Class page or reunion needs.
---