Permian

High School




Class Of 1980
Welcome
Permian High School
Class Of 1980
Haven't set a date yet, but we are on for 2025!
It may not be a traditional reunion, but it will be fun!
Hope you will plan on coming!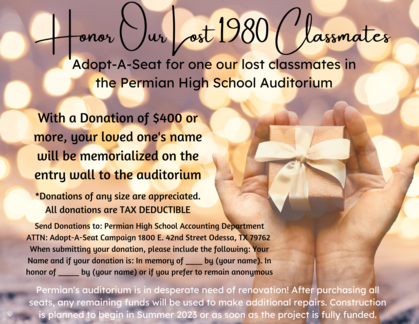 Dear Class,
I have been thinking about this for a while and I hope you will help me make my idea come to fruition.
After updating our lost classmates the other day, I decided we need to try and honor our classmates, if possible. I would like us to help with the renovation process in the Permian Auditorium. The auditorium seats are in very bad shape and our principal started an "Adopt a Seat" Campaign a while back. I would love for our class to honor each of our classmates that we have lost over the years. For each $400 donation the name of our classmate will be engraved on the wall outside the auditorium.
They are accepting donations of any amount. In order for us to insure that we have money going toward our classmates, I need you to donate here if you are not adopting a seat by donating $400 or more. There would be no way for them to keep up with the increments at the school. I will keep a running total for each classmate I receive donations for. Once I have $400 I will adopt a seat in their name. This would be a great way for a group of friends to honor a classmate.

You can use the donation button on the home page or Venmo @Becky-Lucas. Please send me an email once you donate if your money is to be used for a specific classmate or if you need a tax receipt. All donations are tax deductible (I can get receipts for you) if you do it through our class page. For all other money that is donated and not designated toward a particular classmate it will be held until there is $400 in the account. I will then send in a donation in honor of the next classmate in line. I will start with the earliest lost classmate and work through the list. Please let me know if you are interested in "adopting a seat" in honor of one of our 80 lost classmates, so I can remove them from the list. Maybe a group of you have lost one of your friends and you want to go in together to adopt a seat.
I think this is a great way for us to honor our classmates and help out our Alma Mater. I have enough money from our reunion to pay for two seats. I will be honoring Barbara Cawley and Marcus Terrell Wilson. I'm excited about this project and have hopes of seeing all of our classmates names have a permanent place in Permian History.
It's easy to create your profile:
1. Click on Classmates Profiles at the top left.

2. Find yourself on the list and click on your name.

3. Click on the link in the middle that says, "If you are xxxxx, please click here now to create your profile! " to get going on your profile and account setup on this site. Please supply your address and phone number so that we may contact you.
4. The website sets the notifications automatically, so please go into the tab notify me after you create your profile and set your email preferences.
Post some pictures too!
Recommendation: make sure the box marked Profile Visibility is checked so that only other registered PHS Classmates can see your information. See announcement below for more information.




CLICK ON PHOTO GALLERY TO UPLOAD YOUR PHOTOS
This website is managed by your classmates at no cost to you....you can stop paying for the use of other sites! We will maintain this site and keep it as up to date as possible but be patient with us....as it will always be a work in progress.
We will never give out your information but to keep others from viewing your profile please follow the steps outlined below to insure your privacy concerning your account and profile. Only registered classmates can see your profile information if you check the privacy box.
We will have up-to-date Reunion information, lots of memories (did you notice the picture of Permian? the circle drive is now gone!) and an easy way to keep up with classmates. This is our permanent 1980 Class website so come back often to find out what plans have been made, who we've located and what everyone has been up to! Come on ya'll don't be shy - let's see some of your shining faces....post some photos! The senior photos have been added. I will continue to look for pictures of the classmates that did not have a senior photo.
Check out the photos from the previous reunions and the new message forum!
You will from time to time receive an email from this site but we will try and keep it to a minimum. We wanted a site that would be a private place for our classmates to reconnect and find out reunion information . We also have a message board for communication. Once you've registered, you and your classmates can contact each other directly using this site.

All classmates are considered missing until they have created an account on this site. Your name will automatically be removed from the missing list after you have registered. If you know how to contact one of our missing classmates, please encourage them to sign up here. Also, if you don't see someone's name on the list please let us know.

Don't forget you can also post photos to your profile.
Click the "Contact Us" button if you have any questions or problems.

Although we are not charging anyone to use this site, we will accept donations. Any donations received will only be used for our Class page or reunion needs.
---