Permian

High School




Class Of 1980
Welcome
Permian High School
Class Of 1980
"41st" YEAR CLASS REUNION
It's Almost Here - are YOU registered!
JULY 22-25TH, 2021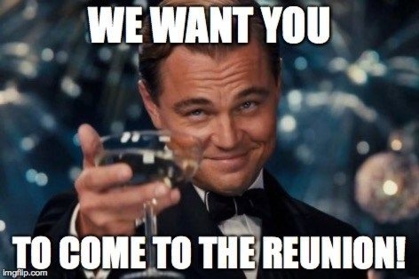 The show must go on! The spring was full and we couldn't get a date in June so since the same weekend that we had before was available, I thought it would be appropriate. Planning is so much easier if people register as far in advance as possible. So please start making your plans to come. Encourage classmates to attend the reunion. All room reservations that were made under the link will be changed to the new dates automatically.
The thing I hear the most is "I don't need to come, it will be just like high school", please come and meet new people that you might not have known in school, see old friends, enjoy catching up with each other & of course telling old stories! Many new friendships have evolved because of the reunions.
Please contact me if you would like your reunions fees refunded. As I stated in my email, you can leave them in the account and you will be paid up for the new dates. If you do that and then are unable to come, you can still receive a refund.
I am still excited for this reunion! We are pleased with the response so far. I'm looking forward to seeing each and everyone of you. Please help us out by contacting people that show as missing on this page, that don't do facebook or social media. We know there are ones out there that may not be receiving this info and you may have their contact info. If you have any questions, please contact us!
HOTEL RESERVATIONS:
IF YOU HAVE ALREADY MADE HOTEL RESERVATIONS THEY WILL TRANSFER TO THE NEW DATES. YOU CAN CANCEL THEM IF YOU NEED TO ALSO.

New link for hotel reservations is posted below
https://www.marriott.com/events/start.mi?id=1612821229758&key=GRP
NOTE: If you are receiving too many emails from the website you can change your notifications by going to member functions and clicking on notify me....there you can opt out of all emails by checking the never box on each one. I strongly recommend that you keep the one checked that says emails from ADMIN. I cannot access your notifications these are preset when you sign up, so please adjust them to your liking. I send out very few emails and this way you will still be notified about upcoming events. Thanks for your help and understanding.
It's easy to create your profile:
1. Click on Classmates Profiles at the top left.

2. Find yourself on the list and click on your name.

3. Click on the link in the middle that says, "If you are xxxxx, please click here now to create your profile! " to get going on your profile and account setup on this site. Please supply your address and phone number so that we may contact you.
4. The website sets the notifications automatically, so please go into the tab notify me after you create your profile and set your email preferences.
Post some pictures too!
Recommendation: make sure the box marked Profile Visibility is checked so that only other registered PHS Classmates can see your information. See announcement below for more information.




CLICK ON PHOTO GALLERY TO UPLOAD YOUR PHOTOS
This website is managed by your classmates at no cost to you....you can stop paying for the use of other sites! We will maintain this site and keep it as up to date as possible but be patient with us....as it will always be a work in progress.
We will never give out your information but to keep others from viewing your profile please follow the steps outlined below to insure your privacy concerning your account and profile. Only registered classmates can see your profile information if you check the privacy box.
We will have up-to-date Reunion information, lots of memories (did you notice the picture of Permian? the circle drive is now gone!) and an easy way to keep up with classmates. This is our permanent 1980 Class website so come back often to find out what plans have been made, who we've located and what everyone has been up to! Come on ya'll don't be shy - let's see some of your shining faces....post some photos! The senior photos have been added. I will continue to look for pictures of the classmates that did not have a senior photo.
Check out the photos from the previous reunions and the new message forum!
---
You will from time to time receive an email from this site but we will try and keep it to a minimum. We wanted a site that would be a private place for our classmates to reconnect and find out reunion information . We also have a message board for communication. Once you've registered, you and your classmates can contact each other directly using this site.

All classmates are considered missing until they have created an account on this site. Your name will automatically be removed from the missing list after you have registered. If you know how to contact one of our missing classmates, please encourage them to sign up here. Also, if you don't see someone's name on the list please let us know.

Don't forget you can also post photos to your profile.
Click the "Contact Us" button if you have any questions or problems.

Although we are not charging anyone to use this site, we will accept donations. Any donations received will only be used for our Class page or reunion needs.
---