MEMORIAL ADOPT A SEAT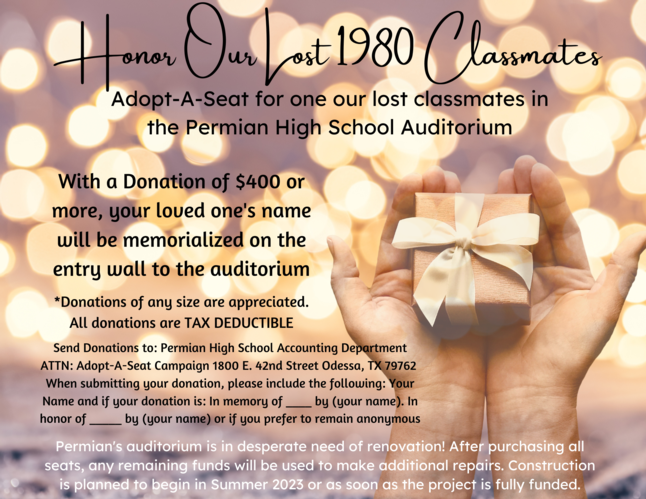 This page will show our progress in adopting a seat for our lost classmates.
Thank you to all who have donated or are considering donating. Every dollar helps in getting us closer to our goal of adopting a seat for every single one of our classmates we have lost.

You may donate your money toward any classmate you would like. Once we have $400 for that classmate, I can adopt a chair. Get your friends together and adopt one for someone you were close to in high school. I think this is the easiest way to quickly raise the funds for a classmate
If money is donated and no classmate designation is made - it will go in the general fund and we will go in year order as we receive each $400.

If you send in a $400 or more donation to the school in memory of one of our classmates, please let me know so we can add them to this page.
There are 1220 seats that are in need of replacement. They hope to start this summer if they have received enough donations. You all remember our seats were turquoise! Well now they are a RED color and you have to be careful when you sit because you might go to the floor! So needless to say we need some school colored seats in there that we can seat people safely.


Two Roses - denote seat adoption

One Rose - contributions have been made in that persons name but we have not met the $400 goal